Looking for a firmer mattress that also provides unparalleled comfort and temperature-regulating properties? You'll be able to find all of these qualities within the Hybrid 2000 from Sleepeezee, which is also solidified by receiving the Which? Best Buy award in 2019.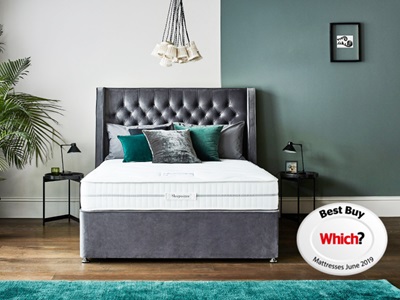 Sleepeezee Hybrid 2000 Pocket Sprung Mattress from £687.65
Firmer, Pocket Sprung, Geltex, Free Next Day Delivery
Brand: Mattressman
Select Size: Small Single | Single | Small Double | Double | King Size | Superking
Description
Firmer is the level of support to the body, suitable for average to heavily weighted people.
Which? Best Buy mattress winner
Sleepeezee are yet again another recipient of a Which? Best buy award, with the Hybrid 2000 achieving this goal in June 2019. This means that the mattress underwent rigorous testing involving 10-year usage simulations, stabilisation assessments and body support tests. The Hybrid 2000 scored exceptionally amongst all the evaluations, making it an exceptionally worthy mattress.
---
You May Also Like