If you're looking for a mattress that has a firmer tension with orthopaedic support, the Backcare Supreme 2000 from Sleepeezee could be a good choice for you. There are many attributes to this mattress which makes it a tempting investment.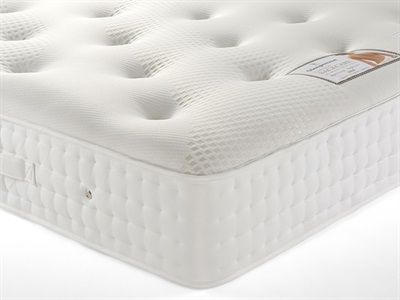 Sleepeezee Backcare Supreme 2000 Pocket Sprung Mattress from £466.65
Firmer, Pocket Sprung, Natural, Free Next Day Delivery
Brand: Mattressman
Select Size: Small Single | Single | Small Double | Double | King Size | Superking
Description
Firmer is the level of support to the body, suitable for average to heavily weighted people.
About Sleepeezee
Sleepeezee pride themselves on the quality mattresses they produce, in which they have been doing so since 1924. With every mattress coming out of their factory in Kent, they keep their high standards of the forefront of their work to provide people with quality mattresses. Sleepeezee have also been crowned with a Royal Warrant, showing that they have provided mattresses to members of the royal family in the past 5 years. If this isn't a seal of approval, we don't know what is!
How do I know if a firmer mattress is suitable for me?
It's always good to try out mattresses before you make a decision – especially if you're unsure what tension is right for you. Generally, firmer mattresses are better designed for you if you're a preferred back sleeper or are part of a heavier weight group. This is because a firmer mattress will ensure that you get total body support, promoting healthier spinal alignment as well as even weight distribution.
Will the fillings in this mattress compromise the support?
The cashmere and wool fillings in this mattress will simply add to the comfort of it, making it more breathable and absorbent. The firmer support of this mattress comes from the 2000 pocket springs in the base, and these fillings layered above it do not change the tension they provide. This mattress features traditional hand tufting, which gives the fillings tension as well as comfort anyway.
---
You May Also Like