With many layers to this mattress, the Studio by Silentnight offers great support and ultimate comfort. Using three kinds of foam, it's understandable why it was awarded the Which? Best Buy in 2019. This mattress has more than meets the eye though such as an innovative, knitted anti-allergy cover. This mattress is also easy care, meaning you won't have to constantly flip and rotate.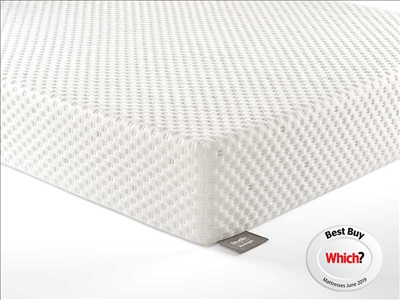 Silentnight Studio Medium Reflex Foam Mattress from £594.15
Medium, Reflex Foam, Geltex, Free Next Day Delivery
Brand: Mattressman
Select Size: Small Single | Single | Small Double | Double | King Size | Superking
Description
Medium is the level of support to the body, suitable for all average weighted people.
Which? Best Buy
For a mattress to be awarded the Which? Best Buy, it has to undergo a simulation of 10 years of usage, stabilisation evaluations and tests for a variety of body types. The Studio is one of the most luxurious mattresses around, and was awarded the Which? Best Buy mattress in 2019.
Is a medium tension right for me?
A medium tension mattress is designed for two types of people: those of lighter/average weight groups and people who change their sleeping position from back to side sleeping throughout the night. In reference to the former, the mattress will not be strained underneath such weight therefore it can maintain it's longevity. The latter is because a medium tension can provide a softness for side sleeping and a firmness for back sleeping, meaning that healthy spine alignment is promoted as best as possible with two sleeping positions in mind.
How do the foam layers comprise a medium tension?
Just because a mattress is made of foam doesn't necessarily mean it's a soft mattress. Due to layers of different kinds of foam and Geltex, the foundation of this mattress is firm enough to be a medium tension. The fact that the surface layer can move to the contours of your body simply adds to the comfort of the mattress, and does not affect the overall support.
---
You May Also Like