For a supportive and firm mattress, consider the Special Sleep Miracoil from Silentnight. Their innovative spring system means you can really get that firm support, which is also made with quality materials. This mattress only needs to be rotated from head-to-toe in order to look after it, making it a fairly easy mattress to look after.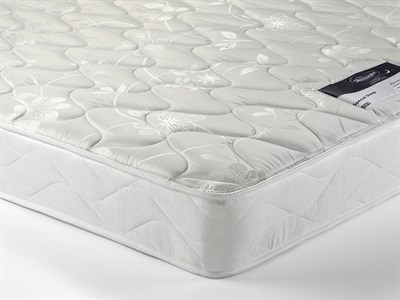 Silentnight Special Sleep Miracoil Mattress from £182.75
Firmer, Miracoil, White Filling, Free Next Day Delivery
Brand: Mattressman
Select Size: Small Single | Single | Small Double | Double | King Size | Superking
Description
Firmer is the level of support to the body, suitable for average to heavily weighted people.
Miracoil springs
Silentnight have found a new way a mattress can deliver on sturdy support through a system of interwoven springs that run vertically (head-to-toe) along the bed. Normally, they would run horizontally and would often cause 'roll-together' in other styles of mattresses. This mattress has a firmer firmness rating and is arranged in a way which gives key areas of your body support, like the knees, hips and shoulders.
Fibres and materials
Silentnight incorporate innovative materials within this mattress to help reduce allergies. For example, their EcoComfort fibres have been proven scientifically to reduce allergens and mites, as well as reduce heat too. This means that you can have a great night's sleep without getting too hot. Finessed with a micro quilted cover which gives it a soft patterned surface layer.
About Silentnight
If you're looking for a brand that has years of experience and recognition, then Silentnight could be that trusted brand you're looking for. With 70 years of trading and manufacturing under their belt, they have also been given recognition as a Superbrand for 13 years. They aim to provide everyone with the sleeping solution that's right for them, and continue down their path of great quality and safety. Every one of Silentnight's products are made in the UK, and are tested against British and European standards.
Am I right for a firmer mattress?
For those who prefer to sleep on their back or are of a heavier stature, you may prefer to sleep on a firmer mattress. This is because you can be fully supported on a more rigid mattress, allowing healthy spine alignment to be promoted. As well as this your weight can be evenly distributed on a firmer mattress, meaning you'll wake up without aches or pains and feeling refreshed in the morning.
What about front sleepers?
Front sleeping is known to cause extra pain in the neck and back as a result of sleeping in this position. However, if you keep finding yourself awakening in this position then we recommend that you sleep on a firmer mattress. A firmer surface will be much better for your spine alignment when compared to a softer/medium mattress.
How can I ensure that I invest in a good quality firm mattress?
The best way of being able to tell is to read reviews of the mattress that you're interested in. A good quality firmer mattress will get neither softer nor firmer as a result of prolonged use. Of course, you cannot know this without using the mattress for some time. Looking out for guarantees or warranties are a good way to see if the mattress has been designed to stand the test of time, and this Silentnight mattress has a 5 year warranty. The Special Sleep mattress incorporates Silentnight's Miracoil spring system in it, ensuring you'll have a durable mattress for years to come.
---
You May Also Like