If you're in need of more support or have back pain, the Pocket Essentials 1400 Ortho from Silentnight will be a great option for you. At the top of the scale for firmness, there are also other great qualities that this mattress has.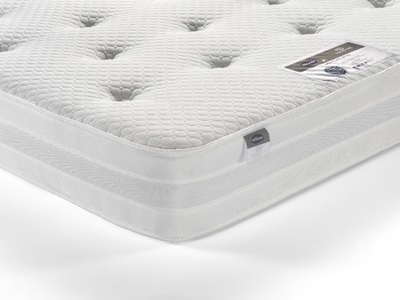 Silentnight Pocket Essentials 1400 Ortho Pocket Sprung Mattress from £437.75
Extra Firm, Pocket Sprung, White Filling, Free Next Day Delivery
Brand: Mattressman
Select Size: Small Single | Single | Small Double | Double | King Size | Superking
Description
Extra Firm is the level of support to the body, suitable for extra heavily weighted people.
Extra firm
This Pocket Essentials mattress has achieved its extra firm tension rating through the use of 1400 individually moving pocket springs. These offer zoned support and reduce pressure on areas of the body that are most strained throughout the day. The pocket sprung design means that you won't feel that roll-together sensation that are common with open coiled mattress.
Other qualities
The Pocket Essentials 1400 Ortho is expertly hand-tufted so the fillings and springs have even further tension in them. The fibre fillings are also hypoallergenic, making it a perfect option for allergy sufferers.
Also an easy care mattress, being one-sided means you only need to rotate it from head to foot every now and then.
How do I know if an extra firm mattress if for me?
If you're unsure, it's imperative that you try out some mattresses so you can get an idea of what's the best mattress for you. Generally, back sleepers and those who are of a heavier stature are best suited to what an extra firm mattress can supply. For heavier people, the stronger and firmer springs mean they can fully support you weight, evenly distribute it and ensure that the spine is properly aligned. For back sleepers, it's important that the middle of the back doesn't sink into the mattress to avoid causing back pain and aches, which is why a firmer mattresses are seen as being more appropriate.
What makes a good quality firmer mattress?
A good quality firmer mattress will not deteriorate as a result of regular usage, and maintain its integrity for an extended period of time. Depending on what the mattress is comprised of and how it would be used, it's hard to tell how long the expected lifespan of the mattress will be. The fact Silentnight provide a 5 year warranty with this mattress signifies that it should stand the test of time.
What about front and side sleepers?
For side sleepers, you're more advised to get a softer mattress. This provides more cushioning around the shoulders and hips, which in turn helps properly align the spine. Front sleepers, although the position itself puts added pressure on your spine and neck, are best to sleep on firmer mattresses. Although you can wake up with aches and pains simply from sleeping this way, your spine will be most supported when on a firmer mattress. Having said this, an extra firm mattress may be too much for a front sleeper.
---
You May Also Like