For a good night's sleep, look no further than the Pocket Essentials 1000 mattress from Silentnight. With 1000 individual pocket springs as part of their Mirapocket system, it offers great support. A knitted micro quilted cover gives it breathability, and the 100% polyester fibre fillings will reduce allergens. The Pocket Essentials 1000 is perfect for anyone looking for both a comfortable but supportive mattress.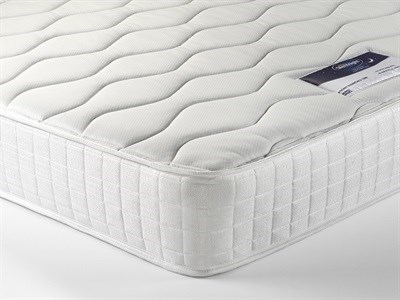 Silentnight Pocket Essentials 1000 Pocket Sprung Mattress from £208.25
Medium Firm, Pocket Sprung, White Filling, Free Next Day Delivery
Brand: Mattressman
Select Size: Small Single | Single | Small Double | Double | King Size | Superking
Description
Medium Firm is the level of support to the body, suitable for average to heavily weighted people.
Mirapocket springs
Silentnight have pioneered and manufactured their own spring system named the Mirapocket. It offers innovative solutions: providing targeted support through its individual responsive spring system, edge-to-edge support and pressure relief, alongside it's silent spring system. Essentially, there are a thousand springs inside that contour to your body, giving you support wherever you need it most. All of this contributes to a comfortable and quiet nights sleep.
Back pain
Unfortunately, neck, shoulder and back pain are common indispositions. If you are struggling to get comfortable at night, then the Pocket Essentials 1000 mattress could be the answer you're looking for. Regardless of your sleeping position, the mirapocket system will allow you to get more back support, correctly align the spine and relieve unwanted pressure.
About Silentnight
Silentnight is one of the UK's most trusted mattress companies, and they always guarantee their mattresses are top quality. They have over 70 years of experience and Silentnight's mission is to ensure everyone has a great sleeping solution, ticking every box for quality and safety. This is also shown in the fact that they have 13 years of Superbrand recognition! Every mattress, base and headboard from Silentnight are made in the UK, and are tested against British and European standards.
---
You May Also Like