Looking for a supportive mattress that doesn't hold back on comfort? Then you should consider the Pocket Essentials 1000 Memory mattress as it has the perfect balance of these things. With the Silentnight Mirapocket system providing the support, the memory foam offers the soft comfort. It also features a knitted cover to protect the layers and provide a soft material for the mattress to breathe through.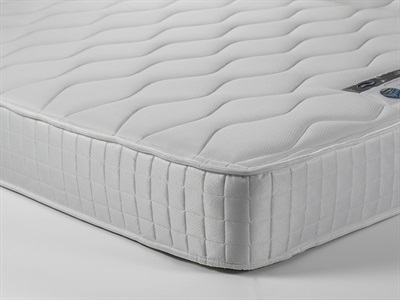 Silentnight Pocket Essentials 1000 Memory Pocket Sprung Mattress from £259.25
Medium, Pocket Sprung, Memory Foam, Free Next Day Delivery
Brand: Mattressman
Select Size: Small Single | Single | Small Double | Double | King Size | Superking
Description
Medium is the level of support to the body, suitable for all average weighted people.
Mirapocket springs
For this next addition to the Pocket Essentials range by Silentnight, we have 1000 Mirapocket (for a king-size mattress) springs that are designed to maximise the support for parts of the body that are most pressured throughout the day. It's designed to spread your bodyweight across the mattress, which will also allow you to move independently from your partner too.
Memory foam
The Mirapocket system is a good one, however it's made even better by a 20mm layer of memory foam. Whilst you've got support from the Mirapockets, the memory foam makes this mattress feel extra comfy and adds to the body moulding effect. Memory foam is essentially lots of air pockets that seep out when pressure is applied, so when pressure is removed they will fill up again and return to their original state.
---
You May Also Like