If you're looking for a firm mattress yet with the comfortability of a memory foam layer, the Silentnight Memory Sleep Miracoil mattress might be just what you're looking for. Alongside its innovative way to deliver support and comfort, the mattress also uses its own EcoComfort fibre. These fibres reduce heat build up dramatically, and when combined with a high-density micro-quilted cover, it gives this mattress great breathing qualities.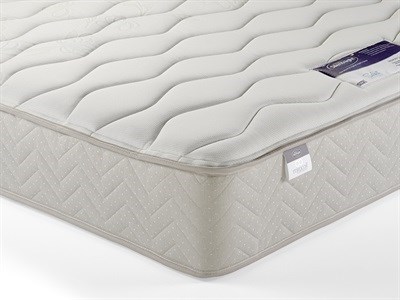 Silentnight Memory Sleep Miracoil Mattress from £330.65
Firmer, Miracoil, Memory Foam, Free Next Day Delivery
Brand: Mattressman
Select Size: Small Single | Single | Small Double | Double | King Size | Superking
Description
Firmer is the level of support to the body, suitable for average to heavily weighted people.
Miracoil springs
Silentnight have developed their own kind of spring system which offers terrific support. Essentially, it's a continuous length of interwoven springs, but they differ from standard open coil springs as they run vertically along the bed instead of horizontally. This offers firm support, promoting correct spinal alignment and reduces 'roll together' for less disturbance from your partner.
Memory foam
On top of a supportive miracoil system there is an extra layer of memory foam. The 25mm layer allows you to have firm support yet have a soft, comfy layer on the top. Memory foam is body moulding and pressure relieving, eventually returning to its original state when pressure is removed.
---
You May Also Like