If you're a fan of foam, then you'll certainly love the Memory 3 Sleep from Silentnight. Offering two layers of luxurious foam, this is also a great choice for people who prefer a softer mattress. Vacuum packed for the ultimate convenience, the Memory 3 Sleep mattress can easily be manoeuvred in your home to your desired bedroom. Silentnight have also included a soft knitted cover which adds to the luxurious qualities of this mattress.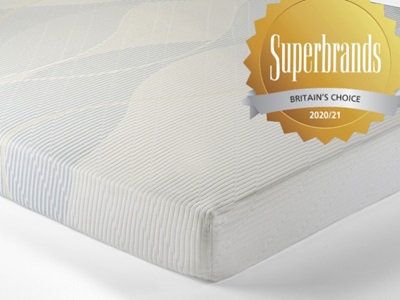 Silentnight Memory 3 Sleep Reflex Foam Mattress from £177.65
Softer, Reflex Foam, Memory Foam, Free Next Day Delivery
Brand: Mattressman
Select Size: Small Single | Single | Small Double | Double | King Size | Superking
Description
Softer is the level of support to the body, suitable for light to average weighted people.
Foam layers
Incorporating two types of foam into the Memory 3 Sleep provides the ultimate soft mattress. With 150mm of Miratex foam on the base and 30mm of memory foam on the surface, these clever materials form a three zoned support system. This allows for soft support around the shoulders and firmer support around the hips and lower back. Ultimately, this provides you with a sounder night's sleep. Foam is also great for moulding to the exact contours of your body and distributing your weight evenly.
About Silentnight
Silentnight is one of the UK's favourite and most trusted mattress manufacturers, and that's no doubt due to the quality and expertise they put into their products. Operations staring over 70 years ago, they've also achieved 13 years of Superbrand recognition. All of Silentnight's products are produced in the UK with quality in the forefront of their work.
Would a soft mattress be good for me?
If you're of a lighter stature, then a softer mattress is most appropriate for you. We would recommend that those who are in a heavier weight group are best not to use a softer mattress, as lack of support can cause pain throughout the neck and back due to improper spinal alignment.
Side, back or front sleeper, which best suits a softer mattress?
The Memory 3 Sleep will be great for people who prefer to sleep on their side, as it cushions the shoulders and hips in a way that will promote healthy spine alignment. Therefore you can wake up feeling like you've been properly supported throughout the night.
What makes a softer mattress a great buy?
What makes a memory foam soft mattress – such as this one – a great buy is that it can mould to the exact contours of your body, but will not lose it's structure easily. This means whilst you're still comfortable, you're also supported. A bad soft mattress will lose its integrity much quicker, meaning you'll have to replace your mattress sooner than expected.
---
You May Also Like