Adding to their already extensive list of high-quality mattresses, Shire Beds have built the Shire Quilt to last and provide ultimate comfort.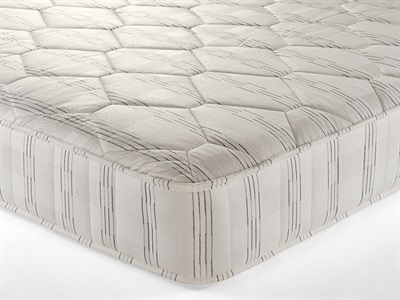 Shire Beds Shire Quilt Open Coil Mattress from £123.25
Medium, Open Coil, White Filling, Free Next Day Delivery
Brand: Mattressman
Select Size: Small Single | Single | Small Double | Double | King Size | Superking
Description
Medium is the level of support to the body, suitable for all average weighted people.
Open coil spring system
The Shire Quilt has included springs are heat tempered for extra strength and longevity, yet still provides a comfortable medium tension. Despite the tension being on the softer end of the spectrum, this mattress can provide a medium tension for several years without getting firmer or softer, which are signs of a poorer quality mattress.
Comfortable qualities
Deep layers of luxurious insulators and polyester comfort layers provide a soft comfort layer. Micro-quilted in place is a soft yet hard-wearing Shire exclusive Damask cover. It's also double-sided so you'll get extra life out of it.
Am I right for a medium mattress?
If you're of a lighter/average stature and like to move between side and back sleeping throughout the night, a medium mattress is best designed for you. This is because the mattress won't be strained underneath lighter weights, thus maintaining the longevity of it. Extra cushioning around the hips and shoulders will help align the spines of side sleepers, whilst it's not so soft that it will not properly support a back sleeper.
Is this a good quality medium tension mattress?
A good quality mattress, whatever its tension is, will not get firmer or softer as a result of usage. The springs in the Shire Quilt are tempered for extra strength, giving this mattress the ability to maintain its shape/form. Overall, this demonstrates that the mattress is built to stand the test of time.
---
You May Also Like