The Comfort Pure 1000 provides all the ingredients for an unsurpassed night of slumber.Much more than a mattress, the Comfort Pure 1000 relies on a combination of 1000 individually pocketed springs and a sumptuous filling layer, all topped off with a deep quilted fabric that's so soft you won't want to cover it with a sheet.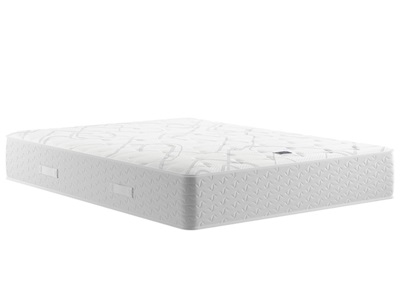 Relyon Comfort Pure 1000 Pocket Sprung Mattress from £267.75
Medium Firm, Pocket Sprung, No Description, Free Next Day Delivery
Brand: Mattressman
Select Size: Small Single | Single | Small Double | Double | King Size | Superking
Relyon Comfort Pure 1000 Pocket Sprung Mattress Description
From one of our most trusted manufacturers, the Comfort Pure 1000 Mattress by Relyon is a fantastic mattress for many. With 1000 pocket springs and medium firm tension, this makes for a great option for people who sleep in a variety of sleeping positions or for couples who have different preferred sleeping positions. This is because a medium firm support is neither too soft nor too firm for sleeping on your side, back or front. Filled with hypoallergenic fillings, the Comfort Pure 1000 is topped off with a deep quilted fabric that's so soft you won't want to cover it with a sheet.
Lastly, the Comfort Pure's fabric cover has been treated with 100% natural probiotic fabric treatment to protect against allergens, bacteria and odours, promoting a fresh and healthy mattress.
Pocket sprung
One of the most popular spring types, you can get a fully supported night's sleep on a pocket sprung mattress. Featuring 1000 pocket springs, each spring moves independently so it can provide body-moulding, evenly distributed total body support.
Hypoallergenic fillings
Do you suffer from hayfever or dust mite allergies? Then this mattress may be a great choice for you as it makes use of hypoallergenic fillings. Comprised of synthetic polyester fillings, they are a better choice than natural fillings as the pore sizes are much smaller by comparison. Overall, this makes it harder for dust mites to pass through and build up.
How do I know this mattress is a good purchase?
Relyon are a trusted brand and have been producing high-quality mattresses for over a decade. Plus, with the Comfort Pure 1000, Relyon offer an 8-year guarantee, showing they have faith in their mattresses. So you can relax on your new mattress knowing it was designed to not just be comfortable but also durable.
---
You May Also Like