Exclusively stocked by Mattressman and made in Britain, the Restapocket 1200 Memory Mattress utilises a combination of memory foam and pocket springs for ultimate comfort, alongside other innovative technologies.
Restopaedic has also given this mattress useful qualities such as vents to make the mattress breathable, border handles for rotation, micro-quilting to keep everything in place and a rod edge to extend the sleeping surface. The Restapocket 1200 Memory has a medium rating for firmness.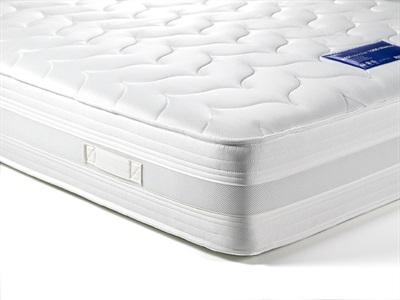 Restopaedic Restapocket 1200 Memory Hybrid Mattress from £361.25
Medium, Hybrid, Hybrid, Free Next Day Delivery
Brand: Mattressman
Select Size: Small Single | Single | Small Double | Double | King Size | Superking
Description
Medium is the level of support to the body, suitable for all average weighted people.
Is a medium mattress suitable for me?
Medium mattresses are best designed for people that are of lighter/average weight groups, as well as people who like to sleep on both their sides and back. People of heavier statures are advised to get a firmer mattress so it can fully support your weight and have a better longevity. Softer mattresses are better designed for side sleepers as it can support healthy spinal alignment in this position, whereas a firmer mattress does the same for back sleepers and their lower back. For those people who can't decide whether they prefer to be on their side or their back, a medium mattress is a happy 'in-between' where you can be supported in both of your preferred sleeping positions.
What makes a good medium mattress?
A good quality mattress, taking its tension out of the equation, is demonstrated when it can be used regularly and not lose its integrity. If a mattress becomes firmer or softer after using it for only a short time, it's a poor quality mattress. You can rely on Restopaedic to provide great quality, as demonstrated in the 5 year warranty that they offer.
---