Jay-Be have made huge strides in producing an eco-friendly mattress range, and have also committed to being a zero-landfill manufacturer. The Benchmark S7 is one of the best in the range, consisting of sumptuous layers of e-Fibres, a deep e-Spring core, micro e-pocket springs and more. Providing a medium tension, this mattress is great for people who love who sleep on their side as it can adequately support the spine in this position.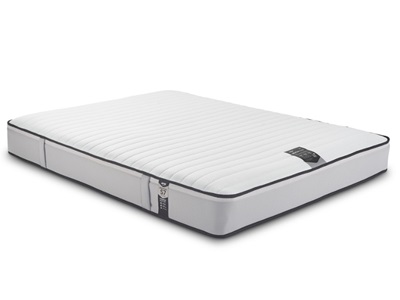 JAY_BE Benchmark S7 Tri-brid Open Coil Mattress from £248.2
Medium, Open Coil, No Description, Free Next Day Delivery
Brand: Mattressman
Select Size: Small Single | Single | Small Double | Double | King Size | Superking
Description
Medium is the level of support to the body, suitable for all average weighted people.
Award-winning e-Fibres
If protecting the environment is a value you hold dear, then you'll love to hear about Jay-Be's e-Fibres. Included in many layers across the mattress, from the comfort layer beneath the breathable cover, a pressure-relieving memory e-Fibre layer under this, a rebound layer above the deep e-Spring system to a high-density base layer. When compared to the manufacture of cotton, the e-Fibre has 90% less CO2 emissions, uses 99% less water and uses 99% reduced land space. All of this is engineered to be more temperature regulating, breathable and hypoallergenic too, great for those who 'sleep hot' or have allergies.
Vacuum-packed
Make your mattress purchase easier by investing in a vacuum-packed mattress. Not only does it keep your mattress fresh until the point you unpackage it in your own bedroom, but it also makes manoeuvering it around your home easier. Adding to the environmental aspect, rolled mattress actually help reduce emissions because they aren't taking up as much space.
---
You May Also Like