Jay-Be's S range is the start of a new generation of eco-friendly mattresses. The Jay-Be Benchmark S3 features a deep e-Spring core topped with the revolutionary Memory e-Fibre which is a more environmentally friendly alternative to memory foam. The fabrics used throughout this mattress are engineered with durability and comfort in mind, and all components of the S3 are designed to keep harmful chemicals out of the manufacturing process. This mattress provides a medium firm tension, great for combination sleepers that like to sleep on both their side, back or front.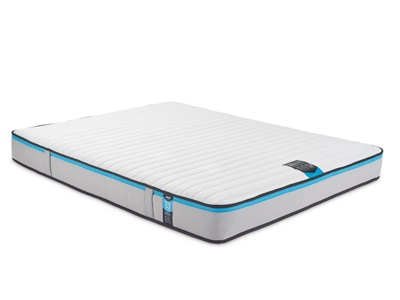 JAY_BE Benchmark S3 Memory Open Coil Mattress from £229.5
Medium Firm, Open Coil, No Description, Free Next Day Delivery
Brand: Mattressman
Select Size: Small Single | Single | Small Double | Double | King Size | Superking
Description
Medium Firm is the level of support to the body, suitable for average to heavily weighted people.
Award-winning eco-technology
From the way they manufacture their spring system to the luxurious e-Fibre fillings, Jay-Be has raised the industry standard for environmentally-friendly mattresses. Avoiding foam in the S range of mattresses, it means that there's no link to VOC emissions. Instead, they've incorporated the use of e-Fibres, which is linked to 90% less CO2 emissions, 99% reduced land space and uses 99% less water. If being environmentally-friendly is important to you, why go for any other mattress?
They don't compromise on comfort either, there's a luxurious layer below the breathable cover, a rebound layer below to mould to the contours of your body, and a high-density base e-Fibre layer, giving the mattress unparalleled support.
Vacuum-packed
Vacuum-packing a mattress protects it much better whilst also making the manoeuvering process much easier for you. Jay-Be reduces the package size by up to 70%, which makes it much easier for you to take the mattress to your bedroom. Leave up to 24 hours before using to ensure it's resumed its original size.
---
You May Also Like