Jay-be is passionate about raising the industry standard, their new mattress range benchmark offers exceptional comfort while helping to protect the future of our planet. This range is the start of a new generation of eco-friendly mattresses. Designed and engineered with sustainability at the forefront, Jay-be has lowered its carbon footprint through the materials they use in the S range of mattresses. Not only this, but they're lowering your carbon footprint by using fabrics that are easier to recycle at the end of its life.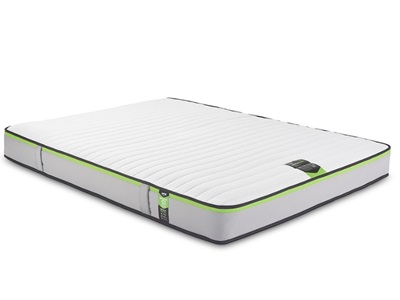 JAY_BE Benchmark S1 Comfort Eco Friendly Open Coil Mattress from £142.76
Firmer, Open Coil, No Description, Free Next Day Delivery
Brand: Mattressman
Select Size: Small Single | Single | Small Double | Double | King Size | Superking
Description
Firmer is the level of support to the body, suitable for average to heavily weighted people.
Supporting the environment
Jay-be have stayed clear of incorporating foam into this mattress due to their link with VOC emissions. Instead, they use layers e-Fibres to provide the same level of luxury comfort whilst being much better for the environment. There's a fine comfort layer below the surface of the mattress, a rebound layer below this so the mattress can mould to the contours of your body, and a high-density base e-Fibre layer, giving the mattress unparalleled support.
This award-winning e-Fibre has, when compared to cotton, 90% less CO2 emissions, uses 99% less water and has 99% reduced land space. Why choose anything else when you know your mattress is helping the environment?
Open coil
In between these sumptuous layers of e-Fibre lays a deep e-Spring core, which has also taken the green initiative in its stride too. Requiring less energy, water and staying clear of harmful chemicals, this spring system doesn't hold back on quality either.
Providing firmer support, you'll be sure to get years worth of supported sleep with the S1. Firmer mattresses are a great choice for those who prefer to sleep on their back or front, or for those who have back pain and need a little extra support.
---
You May Also Like