If you're a fan of softer mattresses, then you will definitely be a fan of the Zero Gravity from Healthopaedic. This mattress features advanced technologies for great value, which really makes this an attractive investment.
The Zero Gravity mattress is a great choice for those that like a softer topped mattress but still want that great edge to edge support. With its 1000 individual springs and its innovative zero gravity foam this mattress will perfectly mould to your contours of your body insuring great support and a restless nights sleep and with the foam encapsulated edges offering great support on the sides makes this mattress a great all rounder with support and comfort in mind. This has to be one of my favourites for a mattress that looks great feels great and at a affordable price.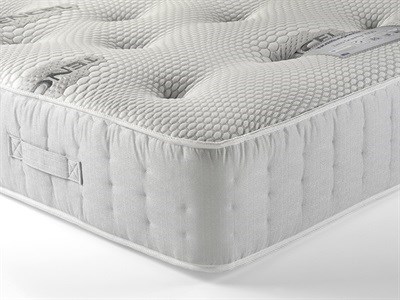 Healthopaedic Zero Gravity 1000 Pocket Sprung Mattress from £390.15
Softer, Pocket Sprung, White Filling, Free Next Day Delivery
Brand: Mattressman
Select Size: Small Single | Single | Small Double | Double | King Size | Superking
Description
Softer is the level of support to the body, suitable for light to average weighted people.
Is a softer mattress suitable for me?
A soft mattress is a more suitable option for people of a lighter stature. Those who are in a heavier weight group will not be fully supported on a softer mattress, causing pain in the neck and back. Soft mattresses are great for people who prefer to sleep on their side, as it provides more cushioning around the hips and shoulders, thus allowing for proper spine alignment.
What makes a soft mattress a good one?
What makes a soft mattress great is that it can conform to the contours of your body, but not sag easily over time and therefore compromising the support. The Zero Gravity is a quality mattress that can provide support and comfort without losing its integrity over time.
---
You May Also Like