If you're looking for a mattress that offers support as well as comfort, you will want to try the Memory Pocket Deluxe from Healthopaedic. This mattress also comes with other great qualities, such as a soft damask cover, hypoallergenic fillings and handles to make turning and flipping your mattress easy. Made in Britain, this mattress also includes a 1 year guarantee.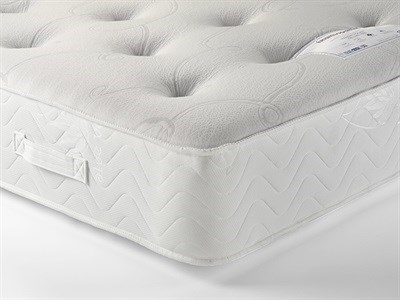 Healthopaedic Memory Pocket Deluxe 1000 Pocket Sprung Mattress from £245.65
Medium, Pocket Sprung, Memory Foam, Free Next Day Delivery
Brand: Mattressman
Select Size: Small Single | Single | Small Double | Double | King Size | Superking
Description
Medium is the level of support to the body, suitable for all average weighted people.
Pocket sprung
The Memory Pocket Deluxe includes 1000 independently moving pocket springs, reacting to your individual movement. Perfect if you share a bed with a partner because this type of spring system prevents roll together. The Memory Pocket Deluxe 1000 also makes sure you're fully supported whilst relieving pressure from vulnerable joints, such as shoulders, hips and feet. This mattress offers medium tension on the firmness rating scale.
Memory foam layer
Above the pocket springs there's a generous 25mm layer of memory foam. This gives you added comfort on top of the support provided by the springs. The small holes will seep out air when pressure is applied, therefore moving with the contours of your body and giving you total body support.
---
You May Also Like