For unrivalled support and comfort, look no further than the Memory Ortho 2000 from the British Bed Company. The award winning mattress boasts 2000 pocket springs which gives it a firmness rating or firmer, however it also has memory foam and other elements which give it that extra level of comfort. With rod edging to prevent sagging at the sides of the mattress, it also has handles to help with head-to-toe rotations in caring for the mattress.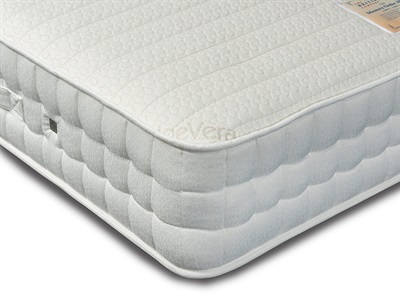 British Bed Company The Memory Ortho 2000 Pocket Sprung Mattress from £407.15
Firmer, Pocket Sprung, Memory Foam, Free Next Day Delivery
Brand: Mattressman
Select Size: Small Single | Single | Small Double | Double | King Size | Superking
Description
Firmer is the level of support to the body, suitable for average to heavily weighted people.
Memory foam
Although this mattress has a high spring count, it still has a high level of comfort due to a layer of memory foam. 75mm thick, it adds to the body-moulding comfort that the individual pocket springs provide. And to stop an insulating effect on the memory foam, there is also a layer of high loft polyester.
Aloe Vera cover
The Memory Ortho 2000 has a knitted cover made with aloe vera and a breathable material called Imazasoft. This helps the mattress prevent moisture build-up, as well as providing a layer of material that is incredibly soft on the skin.
Is a firmer mattress for me?
A firmer mattress will be better designed for you if you're of a heavier stature or are a preferred back sleeper. For the former, a more rigid spring is suitable so the mattress can ensure that it distributes your weight evenly, thus supporting you completely. The latter guarantees lower back support for healthy spinal alignment, which makes this mattress a perfect choice for people who need extra back care.
What makes a good quality firmer mattress?
A good quality firmer mattress will not lose its form over prolonged use, neither getting firmer nor softer. If a mattress begins to lose it's form, then it's likely a poor quality and the springs will not be as effective in supporting you. A good way to tell if the mattress is built with quality in mind is to read reviews and look out for a guarantee/warranty. The Memory Ortho has a 5 year warranty which suggests that it was built to stand the test of time.
---
You May Also Like