A firm but comfortable mattress, this Hotel Rest Deluxe has over 1000 pocket springs which allow the mattress to mould to your body. Because they are individually moving, you will barely feel a partner rolling around in bed throughout the night. Alongside this, it has hand tufts which keep the mattress layers firmly together so that it lasts for years to come.
This mattress also has vents and handles, which make rotating and transporting this mattress easier. The quality of this mattress is also shown in the soft cover that gives it a great feel.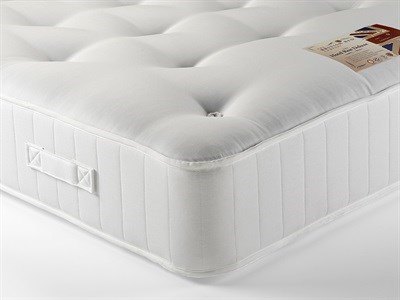 British Bed Company Hotel Rest Deluxe Pocket Sprung Mattress from £276.25
Firmer, Pocket Sprung, Natural, Free Next Day Delivery
Brand: Mattressman
Select Size: Small Single | Single | Small Double | Double | King Size | Superking
Description
Firmer is the level of support to the body, suitable for average to heavily weighted people.
This is a pocket sprung mattress with a firmer tension.It is filled with cotton which gives great temperature control, cool in the summer and warmer in the winter. It is finished with a lovely natural Egyptian Cotton cover. this mattress also has a source 5 fire rating and can be used in hotels and residential homes, it is a tough cookie at a great price.
Natural fillings
Comfort is paramount when it comes to sleeping, so it's good that this mattress comes with both natural cotton fillings. Not only is it comfortable and soft, cotton is known to have the ability to regulate body temperature, which in turn gives it great absorption qualities. Alongside cotton, it contains wool fillings which are known to be naturally insulating. This gives warmth and comfort to the mattress.
Source 5 rated
Mattresses that are used as contract furniture need to be compliant with Source 5, essentially a flame retardant test. These beds are then eligible to be used in hotels, B&B's, universities, residential homes and more. This mattress is suitable for these establishments.
Will a firmer mattress help me sleep better?
Mattress tension is often a mixture of what you favour, your preferred sleeping position and what kind of stature you are. If you're of a heavier weight group, a firmer mattress can help evenly distribute your weight evenly across the mattress, supporting you properly. On top of this, if you're a preferred back sleeper then you can receive lower back support which promotes healthier spinal alignment.
What about front sleepers?
Sleeping on your front can put added pressure on your neck and spine, which can discourage healthy spinal alignment overall. However if you find yourself not being able to stray away from sleeping in this position, a firmer mattress is better designed to support you. A softer mattress would cause you to wake up with aches and pains.
---
You May Also Like