Superior support with considerable comfort and convenience, the Arthur Sleep mattress is the new natural luxurious mattress on the market. Featuring opulent natural layers, innovative memory foam and practical attributes, the Arthur Sleep is certainly an attractive mattress investment. The main support system comes from the 3000 individually moving pocket springs (in a king-size mattress) encased in high-density foam. Overall, this provides a medium-firm tension, edge-to-edge support and an extremely durable mattress. With complete confidence in the Arthur Sleep's quality and longevity, the manufacturers offer a 10-year structural guarantee and 1-year cover guarantee.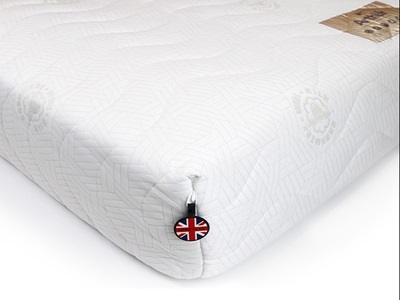 Arthur Sleep Arthur Sleep Pocket Sprung Mattress from £313.65
Medium Firm, Pocket Sprung, Memory Foam, Free Next Day Delivery
Brand: Mattressman
Select Size: Small Single | Single | Small Double | Double | King Size | Superking
Description
Medium Firm is the level of support to the body, suitable for average to heavily weighted people.
Next-generation memory foam layer
Most memory foams are considered to be a 'hot sleep', however, you don't have to worry about this with the next generation memory foam layer incorporated in Arthur Sleep. You will have a much cooler night sleep due to the 30 times greater airflow in this mattress when compared to most premium viscoelastic mattresses on the market. Not only this, but the open cell structure still provides total body-moulding support and comfort whilst you sleep.
Luxury natural fillings
Natural fillings have a large array of benefits which can help you sleep better at night. Combining wool, cashmere and silk, the materials work well with the open cell memory foam to help wick away moisture and contribute to a drier sleeping surface. Wool is a great insulator – so you can cosy up on those cold nights. As well as this, the fibres ensure that the mattress is extremely soft, adding to the overall comfort of the mattress.
Super useful features
When buying a new mattress, we always want it to be a convenient process. Luckily, Arthur Sleep has vacuum-packed delivery meaning you can easily manoeuver the mattress to your room of choice without any hassle or tricky navigation. Once unpackaged, the mattress needs up to 24 hours to return to its original shape, then you're ready to go.
In addition to this, Arthur Sleep is no turn mattress. Designed with durability and longevity in mind, you don't have to worry about flipping it over and rotating seasonally to get the most out of this mattress.
---
You May Also Like